By Waterproof junction box |
27
August 2020 |
0
Comments
Industry blog waterproof junction box related parameters
Waterproof junction box
is mainly suitable for indoor and outdoor electrical, communications, fire equipment, steel smelting, oil chemical industry, electronics, electric power, railway, construction site, mining, quarry, airport, hotel, ships, large factories, coastal factories, terminal equipment, sewage discharge waste water treatment, environmental hazards, etc.
Material: Taiwan imported new material, high quality thermoplastic ABS or PC polycarbonate, or according to the customer's requirements to choose the material, can be customized fuel resistance, uv protection material, cover with transparent and opaque two forms (material non-corrosive, anti-static, good insulation
Thickness of the
junction box
body: the thinnest part of the
junction box
body has an average thickness of 3mm. The thickness of the important parts is strengthened (without deformation) and the impact strength is IK07 (non-crushing).
Flame retardant grade V0. (high baking resistance, long time use fadeless), light weight (easy to install, also can be moved at will).
Waterproof performance: super waterproof, protection grade up to IP66, even in the operation under heavy rain or will not water, very safe.
Certification: the products have passed THE CE certification, the materials can do (environmental protection, flame retardant, UL materials and other certification), and the waterproof grade IP66 certification test has passed.
1. Internal packing -- The box is provided with a lug for the installation of circuit board or DIN track components and its own copper wiring nut (each waterproof box is equipped with at least two conventional M4 copper nuts).
2. External mounting -- it can be fixed to the wall directly through the mounting hole in the lower part of the box body (it can be fixed to the wall or board directly with screws or nails through the four corners of the box).
Inlet and outlet holes: the waterproof junction box can be opened at will according to the customer's use requirements (the opening position and size can be processed according to the customer's specified requirements).
After opening the hole can be equipped with a matching waterproof clamping joint to achieve the best waterproof effect.
The service life of the waterproof box: the conventional material will be around 5 years, depending on the service environment, if the material is added with flame retardant and anti-aging agent [antioxidant life can reach more than 10 years. Thermal deformation temperature: -40~ 120 degrees.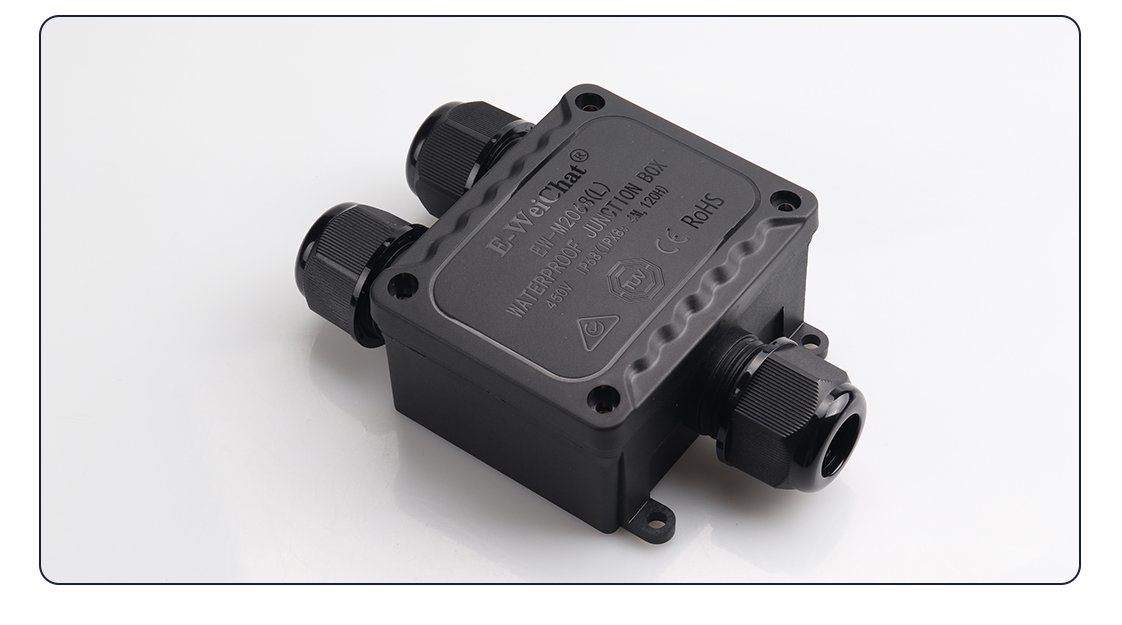 Leave a Reply
Your email address will not be published.Required fields are marked. *